Scam Alert – Mr Julian Richard Beardsley
Once again Coast to Coast Special Investigations is involved in a International Fraud Investigation with regards to False Bank Instruments been supplied to his client .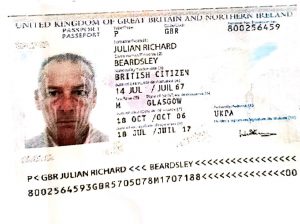 A person imitating a Mr Julian Richard Beardsley with a false British Passport had supplied our client with false documents / bank instruments and information as well as copying and pasting letters to make it all look real on company letter heads that do not belong to them ,the letter heads were hijacked from the company Hestiun Finance . They then demand monies to be paid to a certain Lawyer in Italy and once Euro 100 000 – 00 is paid they will release and activate these so called bank instruments .
On investigation I forwarded Deutche Banks Fraud department the two instruments presented to my client and they replied that they were in fact fraudulent / false bank instruments . the one instrument was for 500 Million Euros and the other was for 50 Billion Euros .
The two letters from the Hijacked company Hestiun's letter heads ( UK based ) supplied to my client definitely have not been written by a English speaking person because the grammar is all wrong but never the less they fooled my client and he parted with some money but not all as requested , he then received two Fraudulent / False Deutche Bank instruments from ( Fake ) Mr Julian Richard Beardsley .
There are other players in the scam namely Francesco Oliveria who is Italian and we believe he is the main party behind this . Meetings were held in Italy and Switzerland where all parties attended with no shame at all . Very cleverly put together .
If any one has any information that can assist us with stopping these criminals please mail us direct so we can put an end to these criminals .
Do your Due Diligence properly and thoroughly before entering into any one of these Bank Instrument deals .
Attached is a copy of Fraudulent Passport of Mr Julian Richard Beardsley .
If you have any information that can help us please contact us on –
sean@ctcsi.co.za
+27 82 510 6516