SCAM ALERT – SPIRITUAL HEALER IN SOUTH AFRICA
SCAMMER poses as SPIRITUAL HEALER
Numbers Used : +27 63 119 6707 | +27 78 522 8500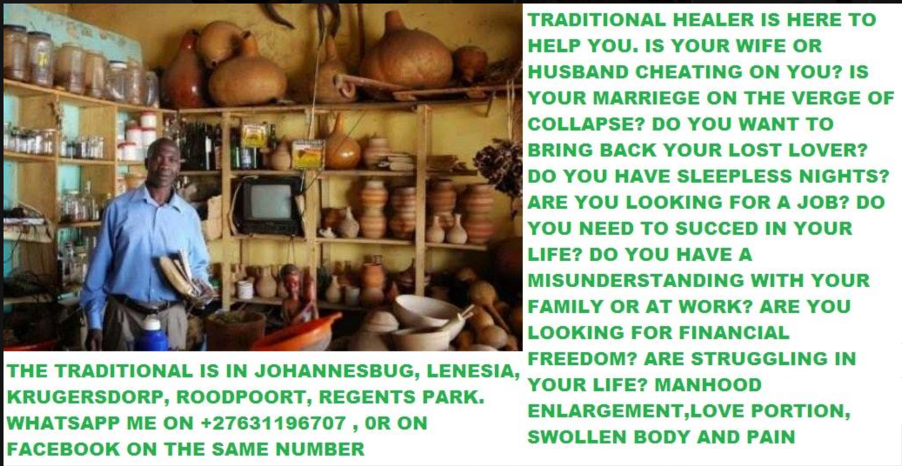 A Foreigner poses to be a spiritual healer lured R360, 000.00 of our clients' money making him believe that he can get him his job back. Dr Bahati Salim makes you win his trust and takes control over your mind to make you believe that he has the power to solve any problem in your life. He starts of by asking you for minimal amounts and once he believes that you are gullible he demands larger amounts and makes you believe that everything will work in your favour . He resides in Johannesburg and his meetings only take place at the airport or at a nearest hotel to the airport.
This scammer also goes by many aliases such as –
Dr Babu Aslam,
Musilamu Dawudi,
Baba Babu Aslam,
Prof Bashir / Prof Babu
Dr Dgm (Facebook),
Chief Bahati,
Dr Bahati Salim,
Dr Dawudi and Sali
He post daily classifieds on the internet trying to make innocent people believe that he is spiritual and he has the power to overcome any issues that you are in.
Below are the pictures of the websites he is using;
These are some of the websites linked to the numbers above:
https://drbabuaslam.doodlekit.com/home/index

http:// w w w .businessfind.co.za/classifieds/advertisements/36843/traditional-healer-27631196707/johannesburg/gauteng/south-africa/south-africa/health-beauty-services/

http://w w w.businessfind.co.za/classifieds/advertisements/36844/traditional-healer-with-experience-27631196707/johannesburg/gauteng/south-africa/croesus/health-beauty-services/

http://indorebazar.com/for-sale/health-beauty/noorani-magic-ring-and-wallet-27631196707_i11068

https://www.facebook.com/pg/kalanzibig/posts/

http://indorebazar.com/for-sale/health-beauty/mutuba-seed-manhood-enlarger-call-27631196707-or-whatsupp_i10194

https://drbabuaslam.doodlekit.com/blog/entry/5661829/renown-african-traditional-healer-spell-caster-call-2763119670

https://vymaps.com/ZA/Drdgm-260986654350172/

https://www.onefdh.com/business/bring-back-lost-lover-in-usa-canada-uk-australia-london-lost-love-spell-caster-return-lost-lover-27785228500.html

https://allevents.in/johannesburg/lost-love-spell-caster-in-johannesburgekurhuleni-0785228500/80008792034414

https://www.listingwala.com/best-lost-love-spell-caster-in-soweto-callwhatsapp-27785228500.html

http://www.wamma.co.uk/health-fitness/whatsapp-bring-back-lost-lover-27785228500/1025

https://www.classifiedsdekho.com/Classifieds/FullDescriptionAd.aspx?Id=1223523&MainSection=Services&Category=Astrology+-+Numerology

http://www.classicads.co.za/horoscope/gauteng/world-wide-lost-love-spells-caster-27785228500-lost-1935.html

https://www.listingwala.com/27785228500-whatsapp-manhood-enlargement-cream.html

https://www.click.in/mumbai/certified-spell-casting-online-love-money-spells-speciali-c125-v31916225

https://www.click.in/chennai/whatsapp-bring-back-lost-lover-27785228500-c75-v31158350

https://www.listingwala.com/bring-back-lost-love-spells-caster-south-africa-europe-united-states-of-america.html

https://www.listingwala.com/love-disappointments-27785228500bring-back-lost-lover-in-soweto-johannesburg-braamfontein-jules-johannesburg.html
For more information about this ON GOING  SCAM  please feel free to contact us on –

sean@ctcsi.co.za
+27 82 510 6516